The Essential Space, Retriever Essentials' free store, is in RAC 235!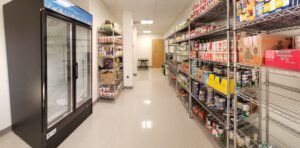 See current Hours on Operation on the left side of page.
Please email retrieveressentials@umbc.edu if you have any questions or concerns about finding resources.
*
If you need food:
Visit our in-person location, The Essential Space, in RAC 235. Pick out non-perishable food, select perishable foods, toiletries, and baby items, all 100% free.
Pre-packed food bags are available anonymously and immediately during business hours at any of our Food Zones.
Orders are done on a case-by-case basis. If you would like this accommodation, please contact us at retrieveressentials@umbc.edu.
For Campus Food Pantry donations:
You can also drop food donations in our donation boxes located: inside The Commons, in the Admin Building, the AOK Library Atrium, OCA Mocha, and the Campus Police Station or order from our Amazon wishlist for no-contact donations.
Please use the following contact info and address for the orders:
Ariel Barbosa
Retriever Essentials
UC 101
University of Maryland Baltimore County
1000 Hilltop Circle
Baltimore, MD 21250