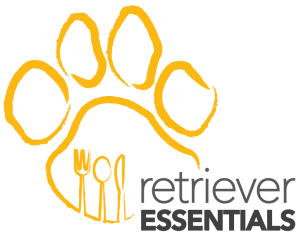 UMBC is proud to launch RETRIEVER ESSENTIALS: a new faculty, staff, and student partnership to tackle food insecurity in our university community.
Across the United States, a large number of college students are skipping meals to make ends meet, often despite working full- and part-time and carefully juggling their finances to pay for housing, tuition, and other expenses. Lacking a steady source of nutritious meals can affect students' physical and mental health, grades, and ability to engage in life on campus, and stigma can worsen the problem, discouraging students from seeking help. Retriever Essentials is designed to tackle these challenges head-on.
Retriever Essentials is launching three ways for students to access healthy foods and other essential supplies, free of charge. Paired with these resources are opportunities for UMBC community members to offer support.
UMBC offers multiple avenues of assistance to help all of our students succeed.  Retriever Essentials is a community partnership that offers:
FOOD ZONES
Students can now pick up groceries, toiletries, and other essentials at a number of private, but also very accessible, locations across campus. Just stop by, fill out a short, anonymous form regarding your needs, and pick up items to help you get through the week.
SAVE A SWIPE
Have extra meals on your red card that you aren't able to use, or would like to share meals with fellow UMBC students who are facing food insecurity? During the month of September, you can sign up to donate 5 or 10 meals using this online form! Students will have two options for donating, more information can be found here!
COMMUNITY PARTNERSHIPS
Retriever Essentials is partnering with local organizations to help refer students to access holistic supports off-campus and to meet their longer term needs.
If you are facing an issue, please contact:
Doha Chibani, LCSW-C
Clinical Social Worker
Referrals Coordinator
Counseling Center, Student Development and Success Center
Tel:  410-455-2472
chibani1@umbc.edu
http://counseling.umbc.edu/
who will direct you to the department that can assist you.