A MESSAGE FROM THE RETRIEVER ESSENTIALS TEAM 
Dear UMBC Community,
At the present time, under the COVID-19 guidelines issued by the UMBC campus, the Retriever Essentials Food Pantry is closed for visitors. However, if you need food and toiletry items, the UMBC Campus Police Department has pre-packed bags of nutritionally balanced nonperishable food and travel size toiletry items. Contact the Campus Police at (410) 455-5555. Address: UMBC Police Department 1000 Hilltop Circle Baltimore, MD 21250. The UMBC Police Department is located across the parking lot from the Performing Arts and Humanities Building (PAHB).
True Grits will be serving food through April 5, no other dining locations are currently open. They will serve Lunch (10:30 to 1:30) and Dinner (4:30 to 6:30).  All food will be served in to-go containers and must be eaten elsewhere. True Grits will also be hosting essential items during these operation hours for those in need. The essential items include nonperishable food and toiletries.
You can now visit our 
Retriever Essentials Amazon shopping lists
 to donate and have items delivered to the campus pantry! Just click on the links below:
Please use the following contact info and address for the orders:
Deveraux Smith
Retriever Essentials
Sherman Hall 205
1000 Hilltop Circle
Baltimore, MD 21250
Delivery Instructions: This is not college park! Please deliver toUMBC (on campus). If you have trouble finding the building, please get in touch with 202-704 7840! Thank you!
Stay safe!
The Retriever Essentials Team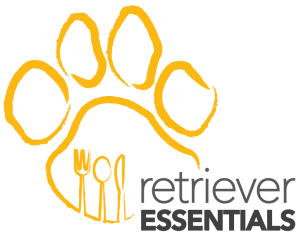 UMBC is proud to launch RETRIEVER ESSENTIALS: a faculty, staff, and student partnership to tackle food insecurity in our university community. Across the United States, a large number of college students are skipping meals to make ends meet, often despite working full- and part-time and carefully juggling their finances to pay for housing, tuition, and other expenses. Lacking a steady source of nutritious meals can affect students' physical and mental health, grades, and ability to engage in life on campus, and stigma can worsen the problem, discouraging students from seeking help. Retriever Essentials is designed to tackle these challenges head-on.Retriever Essentials incorporates three ways for students to access healthy foods and other essential supplies, free of charge. Paired with these resources are opportunities for UMBC community members to offer support. UMBC offers multiple avenues of assistance to help all of our students succeed.  Retriever Essentials is a community partnership that offers:
FOOD ZONES
UMBC members can now pick up groceries, toiletries, and other essentials at a number of private, but also very accessible, locations across campus. Just stop by, fill out a short, anonymous form regarding your needs, and pick up items to help you get through the week.
SAVE-A-SWIPE
Save-a-Swipe consists of a pool of meals available to UMBC students who have been identified by our trained staff as food insecure. If you are in need of meals email retrieveressentials@umbc.edu to be assisted.
COMMUNITY PARTNERSHIPS
Retriever Essentials partners with local organizations to help refer UMBC members to access holistic support on- and off-campus to address longer-term needs.