If you could benefit from additional resources and social services, please dial 2-1-1. 211 MD oversees a statewide network of call centers, providing essential connections to Marylanders when they need it most.
There are three neighboring emergency food services near UMBC's campus. All three require proof of residency in the county/city limits where the organization is located.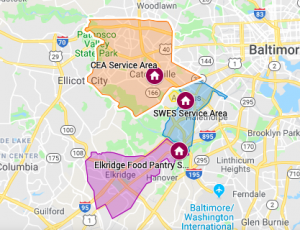 Catonsville Emergency Assistance (25 Bloomsbury Ave, hours: Monday through Thursday from 9am to 1pm by appointment)- requires Catonsville address (utility bill, rent, lease), proof of income with restrictions, social security card, also provides Utility Cut-Off Intervention and Eviction Prevention Assistance.
Southwest Emergency Services run by the Arbutus United Methodist Church (1201 Maple Ave, hours: Monday/Wednesday/Friday from 9am to 12pm)- must be able to present proof of Arbutus address, also has a thrift store on Saturdays starting May 15, 2021
Elkridge Food Pantry (5646 Furnace Ave, hours: second and fourth Friday of each month from 4pm to 8pm.)- must be able to present proof of Elkridge, Hanover, or Jessup address
If you're new to the UMBC area and are unsure if your current residence falls within the service areas for any of these pantries, you can utilize our service area map to see if your address qualifies you to receive services.
If outside these service areas you can search your nearest food pantry here or check out a document with a list of food pantries in the 21227, 21228, and 21229 zip codes.
There are also many churches and freestanding organizations in the area that are network locations of the Maryland Food Bank. You can find contact information for these locations using your zip-code on the Maryland Food Bank's website.