Free Corner Stores
Free Corner Stores are spots on campus where you can take what you want. These are available 24/7 and have a smaller selection of non-perishable items and toiletries.
AOK Library
Located on the first floor of AOK Library, this Free Corner Store focuses on convenient snacks that are ready to fuel you as you study.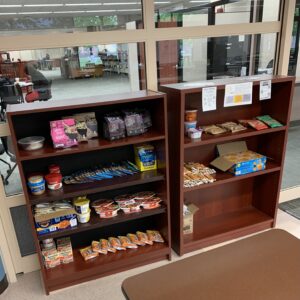 Campus Police Station
Located in the hallway to the right of the reception desk, this location has a variety of non-perishable food and toiletry items. Feel free to also grab a pre-packed bag from the shelf to the right of the Free Corner Store!